The Flint Flyer, 1966 GS 401 A/Stock, a Buick sponsored sleeper.
OK, all this talk about 'I remember' cars has stirred me to action.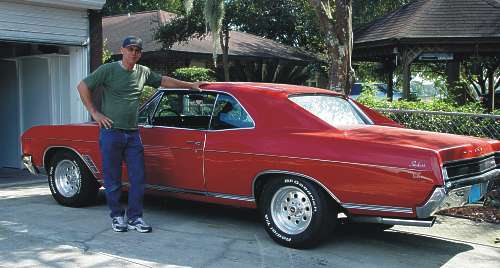 This story has the facts, figures and documentation to back it up! The car belongs to a friend, John Lane, and is sitting in his garage at this moment. (Heard it run today). It is a 1966 GS 401 that ran A/Stock and trailered everything in central Florida at that time. This car was a Buick sponsored sleeper. The individual was an ex Buick employee that had run nailheads in various configurations. At the time Buick was being kicked at the drag strips by the 396/427 Chevelles, Corvettes, Fairlanes ETC and they did not have an answer so they devised a way to cheat (Stroker crank-469ci+cam-head work) and to my knowledge this was never caught. Buick came to him and said if he would buy a new GS they would send the car out for some special work to make it completive (One of 14). As you see he ordered an auto GS with PS and 401. The car was then sent to Crane in Florida for some special engine/trans work at NO cost to the individual. The engine modifications are noted on a yellow tag, Sig Erickson cam specs and CSC guarantee, the rear is a 4:30 rear with some special drum brakes (At no cost to the owner). He ran at Plant City and Oldsmar in central Florida. There are some time slips from those days that we have not gotten from the widow yet that show 10/11 sec times. In 1968 he was street racing a corvette and spun two rod bearings and parked the car. (The rods were 'boxed' with a 1/4 sq SS bar welded to each side HEAVY).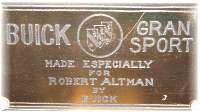 In 2000 some friends were talking, as we are, of bad cars that they remember from their youth and this car came up as my friend remembered seeing it rumble through his small town in 67. His friend said he knew the person who owned the car and he lived in the next small town, the third guy remembered going to Oldsmar with some kind of towed hot rod that he was going to run and some guy with a red Buick came up and asked if he was going to run, when he said yes the guy said save your gas and tires I have everything here covered including a cheater 427 Chevelle a Chevy Dealer was sponsoring. When he put the Chevelle down they left the car on the trailer. My friend wondered if the car was still around and the third guy said he had seen it not too long ago sitting in an open carport in the same small town. They went to talk to the owner and found the car sitting with 4 flat tires looking real bad (It had been parked in the same spot since 1968). The owner was in real bad health and agreed to sell the car to my friend as he knew he would bring it back to glory. At the time the car had 4,500 mi on it.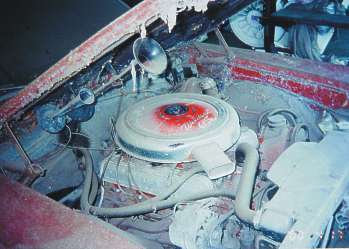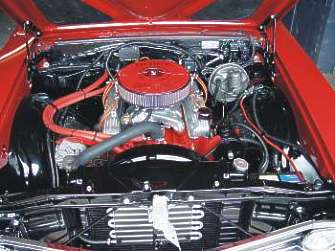 They pulled the engine and trans and had the 3rd guy who runs a machine shop rebuild it. My friend and the second guy are paint and body types so they stripped the paint down to bare metal and repainted the car and engine compartment. Once they got the motor apart they decided to ship out the crank&rods to be balanced.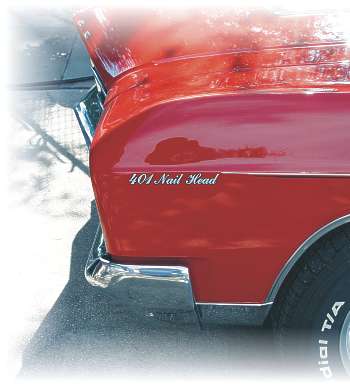 They found a shop in Ga. and called UPS to pick up the crank and rods. UPS lost them and to this day (3 yrs later) they have never been found and were not insured. SOOO they called a crank company the machine shop owner dealt with and for $3,800 they had a new stroker crank(469 ci) with Buick mains and chev rods built. Since they had ordered the pistons before losing the crank they had to sleeve the pistons so the the pins would fit. The 2 speed trans had some kind of electric lockup switch but my friend wanted to drive the car to car shows and still keep the 4:30 rear so he had local trans shop build a bullet proof TH 400 with a ford stick shift OD unit on the back of it.
This car is a real piece of Buick history but so far we have not heard of any of the other 14 cars. We know one was in Jacksonville Fl and have the owners name but he is never home and does not return msgs. The cars garage companion is a Green 70 Stage one 455 also a beautiful car. Hopefully I will get him to take it to the Buick Nationals in May.