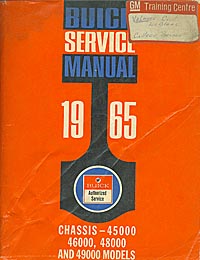 This manual is
offered free on the site
for your use. You may download sections or print pages. Please do not modify any pages or remove any references to this site.
If you find this manual useful and would like to encourage further offers of manuals, please consider purchasing a download link for $10.00. You will get the entire manual in a 41M .zip file which you can opened in your computer for much faster load times.
If you purchase this manual and are not immediately forwarded to the download link, please Contact Us
If you would like to support further manual offers but have no real use for this manual, you can support the site by becoming a site supporting member!
Click Here!
---
1965 BUICK CHASSIS SERVICE MANUAL, 45, 46, 48. and 49000 Models
---
1965 BUICK CHASSIS
SERVICE MANUAL
45, 46, 48, and 49000 Models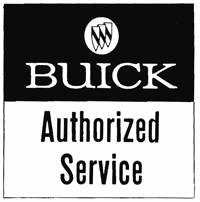 This service manual furnishes chassis service information for 1965 Buick LeSabre, Wildcat, Electra 225, and Riviera Models. The information applies equally to all models unless otherwise specified.
Attention is directed to the Introduction - Group 0. This group describes the arrangement of the manual and will enable your to locate desired information easily.
A Separate Manual, the 1965 Fisher Body Service Manual, contains body service information on all series and models used in 1965.
SERVICE DEPARTMENT
BUICK MOTOR DIVISION
GENERAL MOTORS CORPORATION
FLINT, MICHIGAN 48550
INDEX

GROUP
NO.

SUBJECT

PAGE NO.

0

INTRODUCTION - GENERAL INFORMATION

1

MAINTENANCE

2

ENGINE

3

ENGINE FUEL AND EXHAUST SYSTEMS

4

CLUTCH, S-M TRANSMISSION

4A

TRANSMISSION SHIFT LINKAGE

5

SUPER TURBINE "300"
SUPER TURBINE "400"

6

REAR AXLE AND PROPELLER SHAFT

7

CHASSIS SUSPENSION

8

STEERING GEAR AND LINKAGE

9

BRAKES

10

ELECTRICAL SYSTEMS

11

ACCESSORIES

12

FRAME AND SHEET METAL

14

ALPHABETICAL INDEX