This manual is
offered free on the site
for your use. You may download sections or print pages. Please do not modify any pages or remove any references to this site.
If you find this manual useful and would like to encourage further offers of manuals, please consider purchasing a download link for $10.00. You will get the entire manual in a 41M .zip file which you can opened in your computer for much faster load times.
If you purchase this manual and are not immediately forwarded to the download link, please Contact Us
If you would like to support further manual offers but have no real use for this manual, you can support the site by becoming a site supporting member!
Click Here!
---
1966 BUICK CHASSIS SERVICE MANUAL
---
1966
BUICK
CHASSIS
SERVICE
MANUAL
This manual contains chassis service information for all 1966 Buick models. Refer tothe Introduction for a description of the arrangement of this manual. This will enable you to locate desired information easily.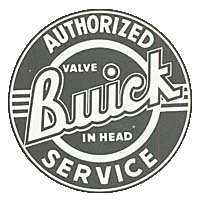 INDEX

GROUP
NO.

SUBJECT

PAGE NO.

0

GENERAL INFORMATION, MAINTENACE, AND LUBRICATION

1

WIPERS, HEATING AND AIR CONDITIONING

2

FRAME AND BODY MOUNTINGS

3

FRONT SUSPENSION

4

REAR SUSPENSION, PROPELLER SHAFT AND DIFFERENTIAL

5

BRAKES

6

ENGINE

7

TRANSMISSION AND CLUTCH

8

FUEL TANK AND EXHAUST

9

STEERING

10

WHEELS AND TIRES

11

CHASSIS SHEET METAL

12

CHASSIS ELECTRICAL AND INSTRUMENTS

13

RADIATOR AND GRILLE

14

BUMPERS

15

ACCESSORIES
---
INTRODUCTION
The 1966 Buick Chassis Service Manual has been reorganized to correspond more closely with current servicing techniques. The various chassis components and systems have been classified into the sixteen major areas listed on the previous page. Each area corresponds to a GROUP with the exception of the 6th and 7th areas which are comprised of more than one GROUP.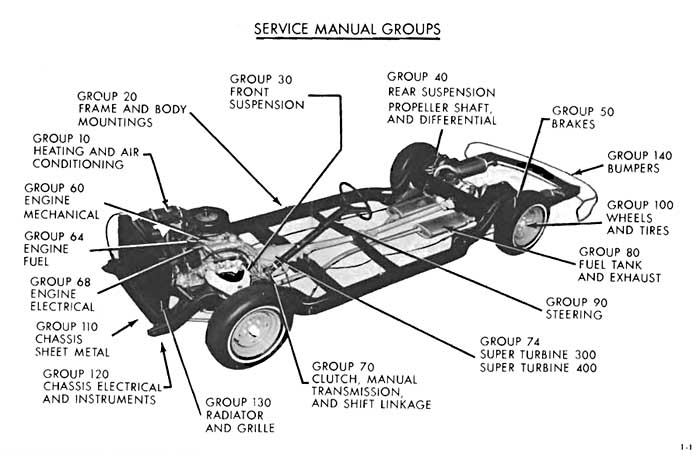 Every GROUP contains one or more SECTIONS. Each SECTION deals with a specific version of a component or system. For instance, since there are major differences between the 225 cubic inch V-6 and the 401 cubiC inch V-8, each engine will be treated in separate SECTIONS of GROUP 60.
The service information included in a SECTION is divided into four basic DIVISIONS. The titles of each DIVISION are:
| | |
| --- | --- |
| Division | Area |
| I | Specifications and Adjustments |
| II | Description and Operation |
| III | Service Proceedures |
| IV | Trouble Diagnosis |
---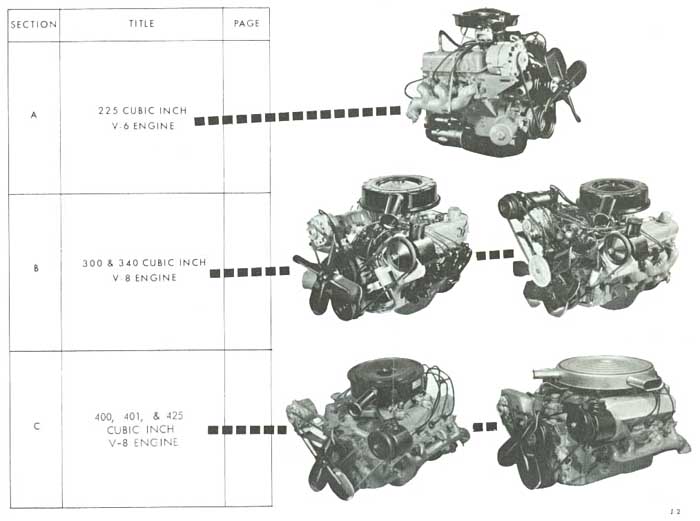 A DIVISION contains one or more PARAGRAPHS which can be identified by the series of numbers preceeding them. The PARAGRAPH number consists of the GROUP number, a hyphen, and a sequence number; paragraph arrangement is numerical.
SUB-PARAGRAPHS are used when necessary for clarity or to provide distinction between models. SUB-PARAGRAPHS are designated by a letter and are in alphabetical order.
SPECIAL TOOLS
References are made throughout the manual to special tool numbers, designated by the prefix letter "J". These tools are manufactured by the Kent-Moore Organization, Inc. If equivalent special tools are not available locally, they may be obtained through:
Kent-Moore Corporation, Inc.
28635 Mound Road
Wrren, Michigan 48092
LOCATING DESIRED INFORMATION
To locate any desired information, locate the proper GROUP listed on the front page of the manual. Bend the manual until the black tab on the first page of the GROUP can be seen in line with the GROUP title on the front page. The first page of the GROUP lists the SECTIONS contained therein. Turn to the proper SECTION, locate the desired DIVISION, and note the page number of the PARAGRAPH containing the information you are seeking.