percent lean carburetor condition. The first thing a serious racer should do is augment the stock fuel pump with an electric unit which will pass all the fuel the carburetor needs.
The next session at Irwindale saw the GS just break into the 14's with a best of 14.95-94.90, or at least 1/4-second less than a good GTO, Olds 4-4-2 or Chevelle will do with comparable gear ratio. We sliced most of this away with the addition of our own cold-air package using some Olds parts, finally coming up with a 14.70-96. Now, we're not going to say that this is what a GS would run like if it only had its own outside air pickup because, lo and behold, come January 1, the plenum scoop they now have on the hood will be reworked to put them in the same league with their sister divisions.
Here are some of the pieces listed in Buick's super performance chart. Note rather large main bearing, grooved for oil at that. Performance 12.20-115?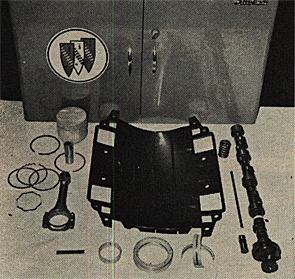 So far no one has used the plenum area to tap in fresh atmosphere to the carb on the street, but just ask anyone in NASCAR what a dandy high-pressure area it is.
Nearly all of our strip runs were back-to-back with very little time between each shot for cooling, and never once did those big beautiful binders do anything but their job. Buick's brakes have been almost legendary in an industry more concerned (for the longest time) with making a vehicle go than stop, but these were better than ever -and they weren't discs. The 268.6 inches of swept area is quite impressive, but it's the drums them-selves that really catch your eye -finned both front and rear (more fins on the front) and aluminum on the front, to boot.
As great as we thought this car was, a few sour notes dimmed our general enthusiasm. The roof line on the GS 400 is quite low, and the bucket seats mounted quite high, and, if you're unfortunate enough to be tall, you will not be able to wear a hat while driving (or even a long haircut). That's one thing. Another is the rather obvious lack of rear seat passenger room with the front seats adjusted all the way back. While the interior could not really be faulted for fit, material texture or color, the instrument panel just didn't blend in within the scheme. We hate to say this in every test, but the GTO panel layout is a hard act to follow. Lastly, there is the rather distinct loss of quality control in the fit of the various panels, hood and trunk lid. Maybe we're harping about something an American workman doesn't have the ability to do any longer, but when you layout more than four grand for a car, you've just got to demand a higher standard of assembly, Even with this, the GS 400 is the kind of car you can drive and drive and not get tired of. The cold-air packages, cams, forged pistons' - all of them are very important in this market - but you've got to be able to live with the car, too. For a while there may be a few machines that put the GS down at the track, but on the way to the track, that's a horse of a different color. Wherever Mrs, Wilson is, we'll bet she's driving a Buick!