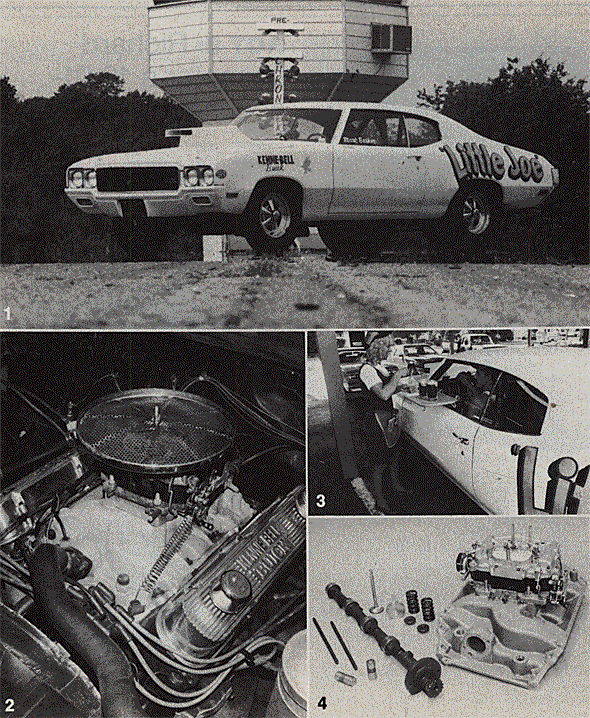 1. Busher's GS may look like a race car, but it's docile enough to be driven daily on the street. An hour-long cruise never saw the temp gauge above 180 degrees, although the fuel gauge was considerably more active!
2. No tunnel ram or laughing gas needed here, Just an Edelbrock intake and a 1000 cfm Thermo-Quad get this Buick into the 10's
3. A stop at the local A&W turned a few heads, but the waitress bought us our root beers anyway.
4. Getting to the heart of the matter: A Kenne-Bell valve train teams with an Edelbrock/Carter combo to make lots of horsepower!
frame rails, to the appropriately widened Cragers shod with DOT-approved Mickey Thompson rubber. Busher also builds his own engines - with machine work performed by Hines Racing Engines and has recently begun building engines for other Buick enthusiasts.
Getting most combinations into the 10's usually requires not only a radical power plant, but extensive lightening as well. Surprisingly, Busher's hasn't needed either. Oh sure, the front end is a rare fiberglass piece, and the interior isn't as comfortable as some Buicks we've seen, nevertheless, both doors are the original steel pieces (with factory glass) and the rear deck lid is all metal, and latches just the way the factory intended it to. Underneath, a 4.56-geared, standard width Chevelle 12-bolt is held in place using an SRD ladder bar setup. Once again, Mark accomplished all the is in his own garage.
Turning to the engine, nothing out of the ordinary is noted; only common sense horsepower techniques and the use of generally available components. A standard 455 block was first bored .010-inch, then fitted with Kenne-Bell Superlite 11:-1 forged pistons and Speed-Pro moly rings. It's no secret that cam choice is critical on any stout-hearted street runner, and for his purposes Busher chose a K-B Mk5H with complementary valve train components. According to Mark, "power with this cam is awesome from 4000-7000 rpm." For heads, Stage I castings were treated to a homespun porting job and fitted with swirl-polished Stage I valves. The rest of the engine's
Mark is able to run his ground-bound missile on pump gas, though best results are obtained with racing fuel. Sunoco doesn't peddle 260 any longer, but the 93.5-octane unleaded seems to get the job done!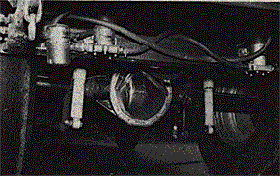 Dual Holley electric pumps feed the voracious big-block; a stock - width 12-bolt with 4.56 gears pirated from a a Chevelle plants the power.
internals were left basically stock, but carefully balanced before assembly.
Mid-10's through a single 4-barrel is no mean feat, but the secret here seems to be in the carburetion. Certainly the B4B Edelbrock doesn't pose an inlet restriction, and when fitted with a 1000 cfm Carter Thermo-Quad seems to provide all the air and fuel the engine requires. On the exhaust side, K-B headers and Cyclone Sonic Turbo mufflers keep the exhaust gas moving better than most, while still providing ample noise suppression. Mark also chose a K-B Switch Pitch Turbo 400 with a 3500- rpm stall converter to get his 3100-pound behemoth launched consistently
As you can see, Busher's success with his 10-second street missel is something that could be duplicated rather easily - and without having to promise your first born to the prince of darkness. As home built super cars go, we think you'll agree that Busher's Buick is more super than most!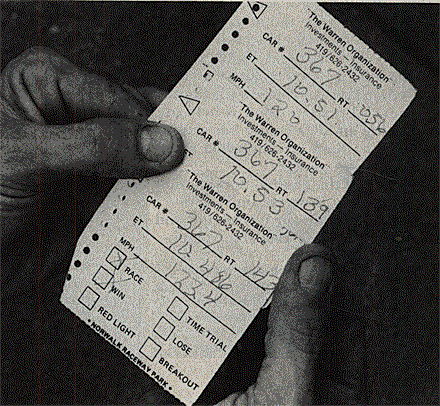 It's hard to argue with proof like this. A 10.48 run at 123 mph is impressive for a race car, let alone a street driven Buick!

EPILOGUE
If you already own a Buick and would like to boost its performance with a set of Stage I heads, here are the casting numbers to look for:
| | |
| --- | --- |
| 1970 | 1240150 |
| 1971 | 1240146 |
| 1972 | 1238530 |
| 1973-74 | 1242002 |
These heads might not be the easiest to locate, so be prepared to come home empty-handed if your junkyard forays prove unsuccessful. Since the standard and Stage I castings are essentially the same, your best bet might be to latch on to a set of standard heads, send them to Kenne-Bell for the necessary machine work, then outfit them with Stage I valves. The valve numbers are as follows:
All years:
234604, intake
234605, exhaust
While you're at it, you may as well install the Stage I valve springs too, available under PN 1383851.
Nostalgia Ad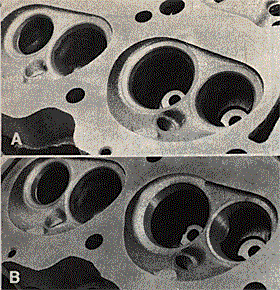 Standard 455 combustion chamber is shown here (photo A). The difference is clearly noticeable in the Stage I head (photo B) with its unshrouded combustion chamber and extra valve pocket reliefs.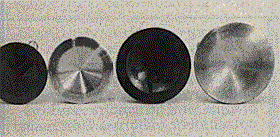 Stage I valves are substantially larger at 2.13 - inches for the intakes and 1.75 - inches for the exhausts. By comparison, standard valves measure 2.00 - inches for the intake and 1.62 - inches for the exhausts.