Doc's Dual Plane Mod and Port Matching
First, you gotta get your hands on a good intake manifold,,, this one is like me,,, old and weathered...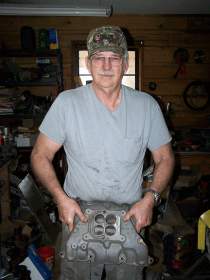 and on this one I am going to port match it to the heads and grind off all the knuckle skinning casting flash on the outside.... you start by placing an old intake manifold gasket on the manifold with the ridges facing up toward the manifold,,, because the gasket is directional and has to be in the right location.

I anchor the gasket in place with bolts in each end and then mark the inside edges with a marker...

This is how it looks when the gasket is removed....
then with a die grinder or drill motor and a carbide burr or stones proceed to grind over to the line in the runners...
*****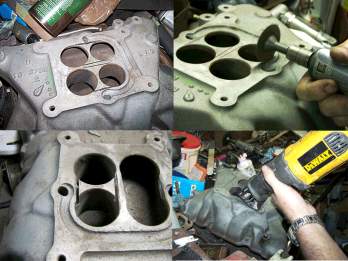 Now on to the Doc dual plane mod,,,first I put the manifold in the sand blasting box and cleaned it up,,,then I take a straight edge and mark the cuts with a marker... and then I make the first basic cuts with a die grinder and a 1/4'' abrasive cut off wheel... when you get down as deep into the manifold as possible, then switch over to a sawsall and a short blade with 14 teeth per inch because the coarser teeth cut faster in cast iron... and as you are cutting, lube the blade with tap magic or atf to keep it cool and speed cutting...

after the partitions are removed then go to a 6 in. carbide burr to smooth up the sides, down into the manifold,,, this takes the most time,,, lube the burr with atf often to keep it cool and speed cutting,,, I cut my pressure back to about 40 psi... and put a fan on my compressor to keep it cool....
after the sides are smoothed up, completely clean the manifold inside and out to get all the crud out of it and then paint it.... Behold, the Doc dual plane.....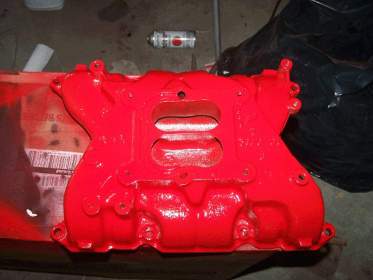 submitted by DocModisett