OIL CONSUMPTION- 1964 401 and 425 CUBIC INCH ENGINES
BUICK DEALER
SERVICE
INFORMATION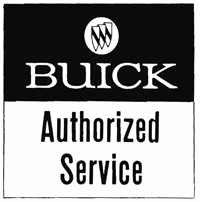 File Under Group No.
2-18
Dealer Letter No.
64-174
READ AND INITIAL
Dealer _________
Serv. Mgr. _________
Parts Mgr. _________
Others _________
_______ _________
_______ _________
_______ _________
_______ _________
_______ _________
BUICK MOTOR DIVISION - GENERAL MOTORS CORPORATION - FLINT, MICHIGAN 48550

August 7,, 1964
ALL BUICK DEALERS
SUBJECT: Oil Consumption - 1964 401 and 425 Cubic Inch Engines
PART 1: NEW ENGINE OIL GAUGE ROD
It was found during the oil consumption investigation that some complaints on the 401 and 425 engines were caused by the crankcase being overfilled when oil was being added. As a result of this, and at the request of the Dealer Parts and Service Advisory Council, a new oil gauge rod with marking similar to the 225 and 300 cubic inch engine rod has been made available. See illustration.
It is recommended that this new oil gauge rod be installed in an owner's car when the owner complains of oil consumption.
Ordering New Oil Gauge Rod - Group 1.516 Part #1356562
NOTE: The part number on the new rod is not changed. See illustration. Only the new rod will be shipped on all future orders.
Attached is an order blank for obtaining an initial supply of the new oil gauge rods. If additional rods are required at a later date, the order must be mailed to the same address that is indicated on the order blank, which is:
Buick Motor Division
Dealer Order Department
Flint 2, Michigan
These rods will be shipped No Charge.
AFAs will not be allowed for the installation of the new gauge rod as this is a no charge operation and parts are being shipped no charge.
-2-

401 & 425 CU. IN. ENGINE OIL GAUGE ROD

PARTS DEPT. WILL ONLY STOCK NEW
ROD HAVING "OPERATING RANGE" MARKING
PART II: NEW INTAKE VALVE STEM SEAL
A new improved intake valve stem seal, Group 0.308, Part #1372472, has been released for service use on oil consumption complaint cars. These seals are not to be installed on cars with less than 4,000 miles.
NOTE: Part #1372472 is for on (1) seal. Therefor, eight (8) of part number is required per engine.
This seal has been specifically designed to control the amount of oil passing between the intake valve stems and guides on the 401 and 425 cu. in. engine only. These engines contain vertical valves and, therefore, horizontal caps and keepers. Since these seals assemble over the valve stem tips and cover these keepers, they would prevent collected oil on the caps from draining past the keepers down the valve stems and into the combustion chambers.
However, on the 225 and 300 cubic inch engines, the valves are not vertical but inclined at a 35° angle. The caps and keepers on these engines are not horizontal and hence would not provide a flat surface for oil to collect and perhaps eventually drain down into the combustion chamber. Therefore, the use of these seals to cover the keepers of these engines is not practical, is a waste of time and effort, and should not be used.
AFAs will not be allowed for the installation of valve stem seals on the 225 and 300 cubic inch engines. Also, AFAs will not be allowed for intake vale seal installation on 401 and 425 cubic inch engines with less than 4,000 miles.
E. J. Hresko
Manager, Technical Service.