HOW TO WIRE THE SWITCH ON A BUICK SWITCH PITCH TRANSMISSION
One version wires the solenoid to a toggle switch. When 12-volts are applied to the solenoid, the converter switches to high gear. It's a simple, manually operated system.
Another way to operate the Switch Pitch is to run a wire from the brake light switch to the solenoid. This way, the converter switches to high gear when the brake lights light. If you adjust the switch to allow lights a little before the brakes grab, you can engage the high stall at will. Also, when torque-braking, the stall will be high while staging, and switch to low just as you begin to roll -- the results are dramatic.
If you run the wire from the brake switch in conjunction with the toggle switch, you'll need to install a diode in the wire to the brake switch; otherwise, you will turn on the brake lights when you toggle the converter into high (the diode acts as a one-way valve). No matter which you choose, it's a great idea to install a separate ground between the chassis and the trans case to make sure the solenoids will work as designed.
Finally, the Switch Pitch setup is nice for engines with stout cams. Say, for example, you need to set your idle at 1,500 rpm to keep your rump-te-rump Nailhead running at 1,000 rpm in gear. If you use the Switch Pitch and apply the brake (engaging the high stall, you can cut the idle to just 1.100 rpm and still maintain the 1,000 rpm in gear idle and eliminate the bang into gear.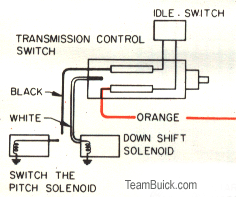 OE Factory Wiring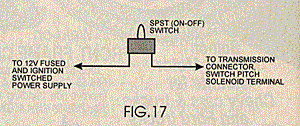 Wiring for the Switch Pitch converter
-- Toggle ONLY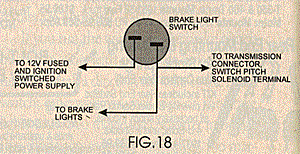 Wiring for the Switch Pitch converter
-- Brake Switch ONLY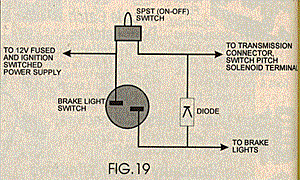 Wiring for the Switch Pitch converter
-- Brake and Toggle Switch
This information was extracted from an article by Doc Frohmader, "The Nailhead" in the October 1997 issue of Street Rodder Magazine.