Seven Million Buicks produced in June 1953
Floyd Clymer
says about the Buick Century, °one of the three fastest American stock cars° easily cruising at 100 mph!
12 volt electrical system in all except the Special.

How about some technical information
---
1953 Buick Production Figures
SPECIAL SERIES
Model 41D-Four-Door Deluxe Sedan
100,312
Model 45R-Two-Door Riviera
58,780
Model 46C Convertible Coupe
4,282
Model 48D-Two-Door Deluxe Sedan
53,796
Model 411D-Stripped Chassis
504
SUPER SERIES
Model 52-Four-Door Riviera
90,685
Model 56C-Convertible Coupe....................................6,701
Model 56R-Two-Door Riviera
91,298
Model 59-Estate Wagon
1,830
Model 521-Stripped Chassis
1,332
Model 561-Stripped Chassis
48
ROADMASTER SERIES
Model 72R-Four Door Riviera
50,523
Model 76C-Convertible Coupe
3,318
Model 76R-Two Door Riviera
22,927
Model 76X-Two-Door Skylark
1,690
Model 76R-Deluxe Estate Wagon
670
Model 79-Estate Wagon
679
Model 720-Stripped Chassis
1
Model 721-Stripped Chassis
108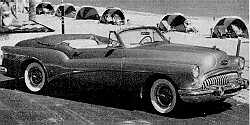 The
°SKYLARK°
was introduced as a Roadmaster Convertible in 1953. It's production was extended to 1954 as desired by Harley Earl.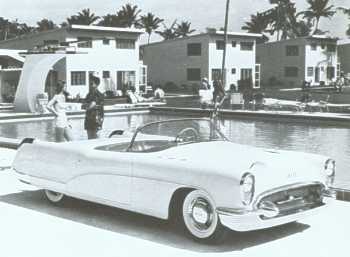 1953 Wildcat
Total Production...............................488,805