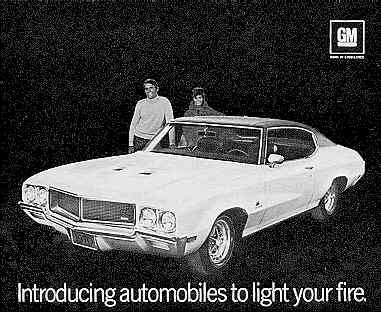 The Gran Sport. From Buick 1970
They're the cars you've been asking us to make.
This one's the GS455 equipped with the Stage 1 performance package. If it's performance you want, the GS455 Stage 1 has it.
A 455 cubic-inch engine. With a high-lift cam and four barrel carburetor which breathes through real air-scoops to add performance.
A cooling system that should never overheat.
And four on the floor is available. Or an improved 3-speed automatic transmission.
Maybe it's the name Buick, with all the goodness and confidence that goes with that name, that really gets you.
Whatever it is, the GS455 Stage 1 has it. And so do all the Light Your Fire Cars from Buick 1970. See them.
Now, wouldn't you really rather have a
1970 Buick.
How about some technical information
---
1970 Buick Production Figures
SKYLARK SERIES

            
            
              
Model 43337-Two-Door Coupe

              
18,620

            
            
              
Model 43369-Four-Door Sedan

              
13,420

            
          
SPORTWAGON SERIES
Model 43435-Wagon
2,239
Model 43436-Wagon(dual tailgate)
10,002
SKYLARK 350 SERIES
Model 43537-Two-Door Sport Coupe
70,918
Model 43569-Four-Door Sedan
30,281
SKYLARK CUSTOM SERIES
Model 44437-Two-Door Sport Coupe
36,367
Model 44439-Four-Door Hardtop
12,411
Model 44467-Convertible Coupe
4,954
Model 44469-Four-Door Sedan
7,113
GS SERIES
Model 43437-Two-Door Sport Coupe
9,948
Model 44637-Two-Door Sport Coupe(GS455)
8.732
Model 44667-Convertible Coupe(GS455)
1,416
LESABRE SERIES
Model 45237-Two-Door Sport Coupe
14,163
Model 45239-Four-Door Hardtop
14,817
Model 45269-Four-Door Sedan
35,404
Model 45437-Custom Two-Door Sport Coupe
35,641
Model 45439-Custom Four-Door Hardtop
43,863
Model 45467-Custom Convertible Coupe
2,487
Model 45469-Custom Four-Door Sedan
36,682
Model 46437-Custom 455 Sport Coupe
5,469
Model 46439-Custom 455 Four-Door Hardtop
6,541
Model 46469-Custom 455 Four-Door Sedan
5,555
ESTATE WAGON
Model 46036-Station Wagon(two seats)
11,427
Model 46046-Station Wagon(three seats)
16,879
WILDCAT CUSTOM SERIES
Model 46637-Two-Door Sport Coupe
9,447
Model 46639-Four-Door Hardtop
12,924
Model 46667-Convertible Coupe
1,244
ELECTRA 225 SERIES
Model 48239-Four-Door Hardtop
14,338
Model 48257-Two-Door Sport Coupe
12,013
Model 48269-Four-Door Sedan
12,580
Model 48439-Custom Four-Door Hardtop
65,114
Model 48457-Custom Two-Door Sport Coupe
26,002
Model 48467-Custom Convertible Coupe
6,045
Model 48469-Custom Four-Door Sport Coupe
14,109
RIVIERA
Model 49487-Two-Door Coupe
37,336
Total Production...............................666,501