You will need a lathe to build build this.
I recently had a bearing alignment problem in an MG (what has that got to do with Buicks). The bearing hole alignment with the block holes was poor, and instead of being pro-active and grinding the block out first, I foolishly installed them with the universal cam bearing installation tool. I should have pulled them in gentally.
Generally I have good luck with the universal cam bearing tool, but occasionally the end of a bearing can be damaged. I looked for a cam bearing puller, but only found one from BHJ, $800 ouches! I decided to build one.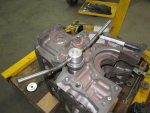 ​
I used a sealed ball bearing which I had laying around. If I had a thrust bearing I would have used it, but the pull used to pull in a cam bearing is quite light and I expect the ball bearing will last a long time. I used 1/2" ready rod, could be I would use 9/16" next time. I only put about 1/2" of threads in the handle. The handles are pressed in tight, with Loctite. I built a push washer that contacted the outer race and gave clearance for the inner race.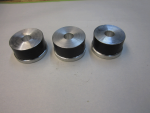 ​
It works great, and will almost certainly guarantee that you will be able to install and remove bearings with even less chance of damage than a good bearing driver.
Last edited: